What We Do
"Business is about two things and two things only, marketing and innovation" – Peter Drucker, Father of Modern Management
We serve small and medium enterprises (SME), specifically:
B2B Industrial Companies & Technology Companies

Professional Services Firms; I.T., Accounting, Legal, Engineering, Financial Planing, Real Estate, Architecture, Management Consulting, etc
and assist them in finding, attracting and retaining clients, providing them with all of the marketing solutions and suppliers under one roof!
qubePartners delivers realistic strategies to increase sales or decrease marketing costs. We provide you with big ideas tailored to your budget; from strategy through to execution of your marketing tactics, qubePartners can assist you in achieving your objectives with the minimum of stress and will do so at a fixed price by delivering our Services As Products

HOW WE DO THIS:
1. We follow a tried and tested process, something that is unfortunately rarely done by the small and medium enterprise when it comes to marketing!
Most clients come to us, wanting a "tangible" such as; a website, a brochure, some SEO, etc, which is a marketing communication tool or tactic – we call this "the roof of the marketing house" – yet these businesses do not have the foundation, or walls from which to work with. qubePartners works with your business to answer these critical strategic questions, then provides a recommendation and implements it for you or with you depending on the degree of expertise and and capacity you have internally!
Here is the Marketing House Diagram – Our process provides you with "big brand disciplines made affordable for small business"
Marketing House Diagram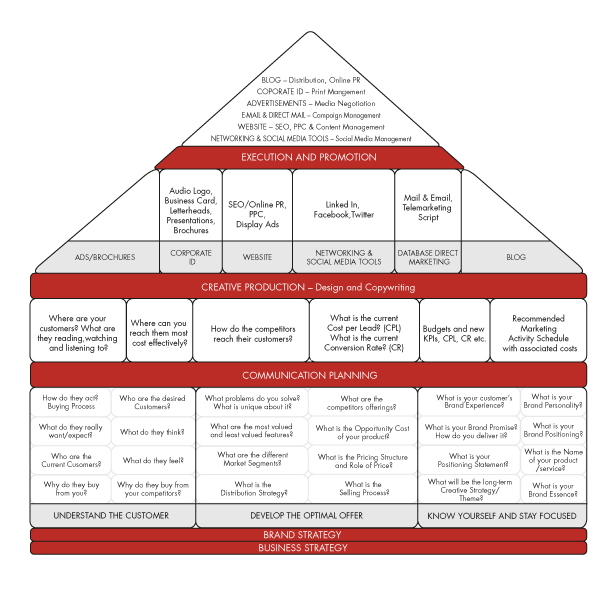 2. We select the best of breed marketing specialists, make them jump through a number of hurdles to test them and then let them do what they do best, whilst providing you the client with a single contact – an account manager who saves your precious time and makes sure that your marketing objectives are met on time and on budget!
See the different marketing specialists and the services they provider here.